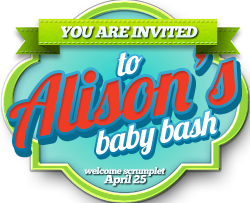 Can you believe what a fantastic idea this is? In our relatively short time cavorting through the blogosphere, we feel like we have made so many friends. And the reason? Because people are so open, real, and caring, no one more so than Alison at Mama Wants This. This virtual baby shower is an excellent example of blogging friendships: three ladies from across the United States, Ado, Stasha, and Erica, have teamed up to throw a party for Alison who is across the world in Malaysia. Isn't the Internet grand?
The first party game, from Ado at The Momalog, is to post a favorite baby picture with a motherhood quote. With seven of the most beautiful babies in the world to choose from, this could have been pretty darn difficult. So we made the executive decision that since Eddie is the baby of our bunch, his pic wins. This is Erin's little bouncing ball of joy.
As for the quote, well Erin wants Tina Fey to play her in the story of her life, and Bossypants was a fantastic read.  There is nothing a second child needs more than a great blessing on his sweet little head.  So here is a great quote from Tina's prayer for her daughter altered slightly, because we know Alison is having a boy:
"Guide him and Protect him when crossing the street, stepping onto boats, swimming in the ocean, swimming in pools, walking near pools, standing on the subway platform, crossing 86th Street, stepping off of boats, using mall restrooms, getting on and off escalators, driving on country roads while arguing, leaning on large windows, walking in parking lots, riding Ferris wheels, roller-coasters, log flumes, or anything called "Hell Drop," "Tower of Torture," or "The Death Spiral Rock 'N Zero G Roll featuring Aerosmith," and standing on any kind of balcony ever, anywhere, at any age."
It should also probably say something about your sibling in there too, so we just did. God bless you, little one, from two ladies half a world away.
The second party game, from Stasha at The Good Life, is to find a gift on Pinterest and share it.  While Erin was setting up the picture, Ellen did the shopping.
My first gift is for the baby because every Scrumplet needs a lovey. And I love that this has the soothing sounds. I swear it made the difference for my older daughter, Coco.
My second gift is just for Alison because a new Mama has to keep up her strength. 😉
The third party game, from Erica M. at Yeah Write Me, is to guess the baby's date of birth, weight and length.  Ellen is fielding this one because, well, she used to be a professional.
Ellen – I'm kind of like  Joey Fatone on Dancing with Stars, playing like an amateur despite the fact that I made a living doing this very same thing. However, it is pretty hard without feeling her belly. Thank goodness she lives far enough away that we don't have to go through THAT awkward conversation. But I did have pictures to go by on her Facebook page. So here goes:
 May 7th, 7lb 14ounces, 20.5 inches long
(I know she is in Malaysia, but someone else will have to convert this to metric.)
We are wishing you all of the blessings, safety, and love in the world! xoxo Ellen and Erin
Comments
comments